COMPRESSION SELECTIVE XPERIENCE
The BV SPORT research and development centre, with its many scientific studies, proved that the pressure put on the lower limbs varies depending on the type and thickness of the living biological tissues of which they are composed. These tissues act as a pressure shock absorber (muscles and fat) or are otherwise incompressible (bones and, to a lesser extent, tendons and nerves).
These innovative factors have enabled us to design meshes of variable levels of rigidity (flexible/semi-rigid/rigid), which have been incorporated into the production of our compression ranges (Booster and ProRecup) since 2004.
Selective compression respects athletes' anatomy and physiology, optimises muscular biomechanics during movement, improves venous return, limits extraneous vibrations and oscillations, decreases the risk of stiffness and DOMS and raises the fatigue threshold.
HOW TO USE IT : 
The PRORecup Elite EVO range must be worn as soon as possible after each exercise session (training, match or competition) for a minimum of 2 hours. You can wear the PRORecup Elite for longer, particularly during physical preparations or after long exercise sessions.
The PRORecup Elite EVO range is an essential addition to other recovery techniques as it extends their beneficial effects (massages, stretching, electrostimulation and pressotherapy...).
CONTRAINDICATIONS :
- In cas of venous pathology, contact your doctor.
- Do not wear during sleep.
Composition
77% Polyamide - 23% Elastane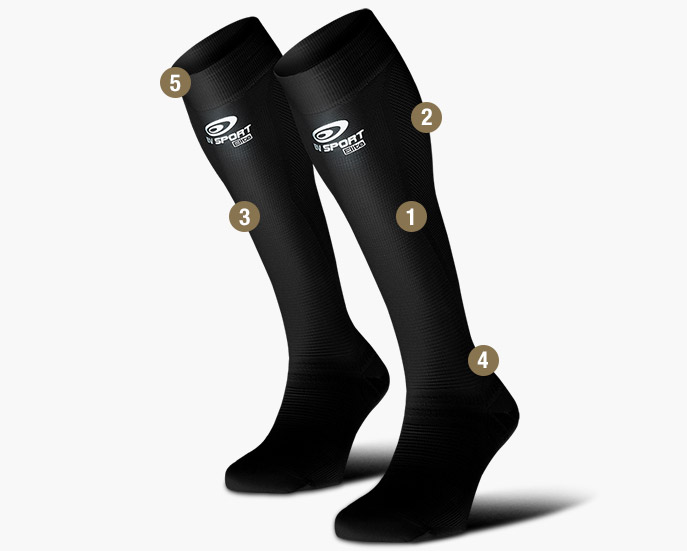 Slective compression
Adapted pressure to the calf. Fast and effective elimination of toxins.
Calf support
Reinforced knit at the calf. Improves muscular support at the calf and reduces parasitic oscillatory movements and vibrations, sources of muscular lesions and fatigue.
Aero tibial window
A specific lighter mesh on the shins. Protects the sensitive pre-tibial structures: Periosteum, superficial nerves and microcirculation.
Soleus Protect System
Supports the Achilles tendon. Improves the tone of the stabilising calf muscles and reduces extraneous vibrations and oscillations.
Wide border
Helps prevent tightness whilst maintaining blood flow.