Designed for running over all distances, the black Abeilhinhas  running socks with their discreet floral design made in France RUN COLLECTOR NHOBI combine technicality, comfort, resistance and fun
Reinforced, the Abeilhinhas socks have a technical 3D anatomical sole inspired by car tires. This specific sole improves the stability of the foot in the shoe while protecting it from shocks during ground impacts.
The  support and stabilization of the foot and ankle at 360°allows to maintain the ankle to be supported while stabilizing the foot in the shoe.
The black running sock Abeilhinhas RUN COLLECTOR NHOBI has targeted reinforcements on areas of heating or strategic contacts very solicited on road or track: the Achilles tendon, the lacing point, the heel and the toe.
The lightweight, honeycombed mesh allows perspiration to be wicked away throughout the effort to stay dry as long as possible.
The wide hemline avoids the withers effect while effectively holding the sock in place.
These black Abeilhinhas mid-high socks  RUN COLLECTOR NHOBI socks have flat seams to limit chafing and plantar irritation. These running socks are also asymmetrical in order to perfectly match the plantar anatomy.
The different patterns are both colorful and discreet, colors making the black Abeilhinhas socks suitable for lifestyle.
Composition
73% Polyamide - 21% Polyester - 6% Elastane
Washing process
Cold wash in washing machine (30° max) / Tumble dry not allowed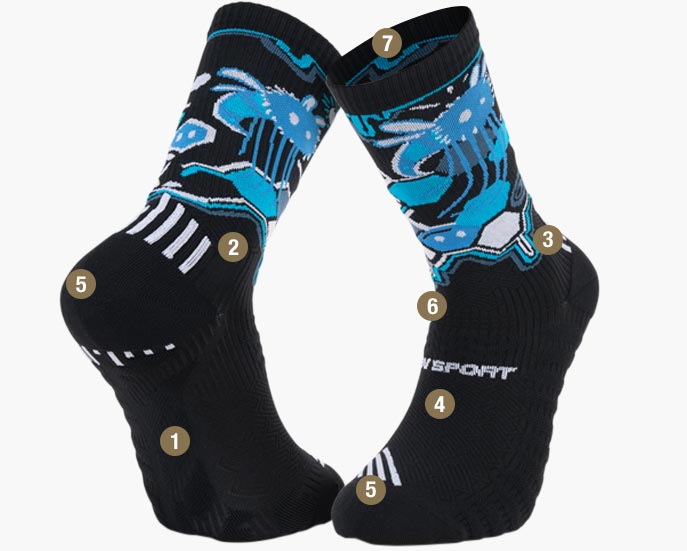 Reinforced 3D anatomical insole
Technique : Combination of 2 types of mesh (thick and fine) with integrated loop mesh.
Action : Protects contact areas, optimizes proprioception and improves foot stabilization.
Benefits : Reduced friction and heat build-up in the sole.
360° support and stabilisation of the foot and ankle
Technique : Ribbed mesh positioned at the ankle joint.
Action : Maintains and stabilizes the ankle without compressing.
Benefits : Optimal ankle support during the stride.
Malleolus and Achilles tendon protection
Technique : Loop mesh located at the level of the malleoli and Achilles tendon.
Action : Protects sensitive structures and absorbs shocks.
Benefits : Provides targeted protection.
Ventilated mesh
Technique : Lightweight, honeycombed mesh on the top of the foot.
Action : Accelerates thermal regulation. Optimal ventilation.
Benefits : Effectively wicks away perspiration.
Heel and toe reinforcement
Technique : Mesh in loop located at the level of the tiptoe and the heel.
Action : Limits heating and friction on the extremities of the foot.
Benefits : Improves comfort and limits the appearance of blisters.
Reinforcement in the lacing area
Technique : Looped mesh.
Action : Limits heat build-up on the upper part of the foot in contact with the lacing area and the tongue of the shoe.
Benefits : Improves comfort and limits pressure due to lacing.
Wide border
Technique : Discharge strip on the upper edge of the sock.
Action : Maintains the sock effectively without tourniquet effect.
Benefits : Improves stem hold.