Made in France, the TRAIL ULTRA+ Socquette is now available in MERINOS version. Merino wool regulates temperature, wicks away sweat, and is naturally soft. It also has anti-odor properties.
The TRAIL ULTRA+ MERINOS Socquette is technical, comfortable, durable, and ultra-reinforced for Trail running at all distances.
It features a 3D ULTRA REINFORCED ANATOMICAL SOLE that improves foot stability in the shoe while protecting it from impacts during ground impacts.
The 360° FOOT AND ANKLE SUPPORT AND STABILIZATION helps support the ankle while stabilizing the foot in the shoe.
The TRAIL ULTRA+ MERINOS has TARGETED REINFORCEMENTS on strategic areas with high friction or contact encountered on rugged trails: the Achilles tendon, the lace point, the heel, and the toe.
The VENTILATED AND HONEYCOMB KNIT allows for sweat evaporation throughout the effort.
The WIDE RIBBED CUFF prevents a tourniquet effect while effectively keeping the sock in place.
The TRAIL ULTRA+ MERINOS features FLAT SEAMS to reduce friction and foot irritations. It is also ASYMMETRICAL to perfectly fit the foot anatomy.
Composition
55% Polyamide - 40% Merino wool - 5% Elastane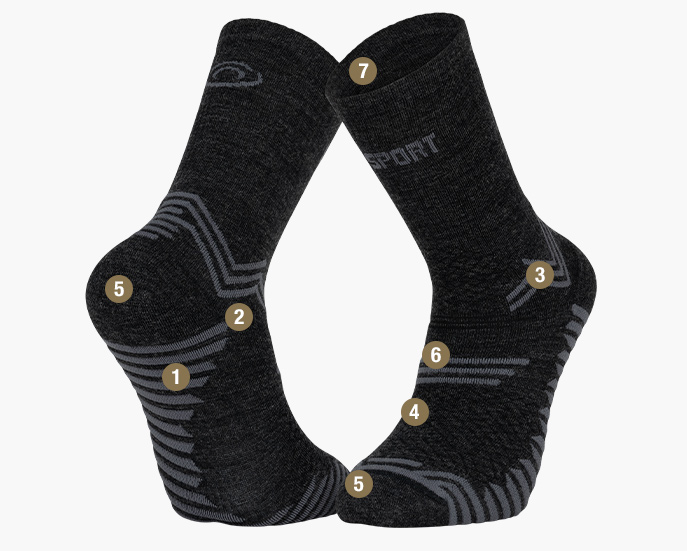 Reinforced 3D anatomical insole
Technique : Combination of 2 types of mesh (thick and fine) with integrated loop mesh.
Action : Protects contact areas, optimizes proprioception and improves foot stabilization.
Benefits : Reduced friction and heat build-up in the sole.
360° support and stabilisation of the foot and ankle
Technique : Ribbed mesh positioned at the ankle joint.
Action : Maintains and stabilizes the ankle without compressing.
Benefits : Optimal ankle support during the stride.
Malleolus and Achilles tendon protection
Technique : Loop mesh located at the level of the malleoli and Achilles tendon.
Action : Protects sensitive structures and absorbs shocks.
Benefits : Provides targeted protection.
Ventilated mesh
Technique : Lightweight, honeycombed mesh on the top of the foot.
Action : Accelerates thermal regulation. Optimal ventilation.
Benefits : Effectively wicks away perspiration.
Heel and toe reinforcement
Technique : Mesh in loop located at the level of the tiptoe and the heel.
Action : Limits heating and friction on the extremities of the foot.
Benefits : Improves comfort and limits the appearance of blisters.
Reinforcement in the lacing area
Technique : Looped mesh.
Action : Limits heat build-up on the upper part of the foot in contact with the lacing area and the tongue of the shoe.
Benefits : Improves comfort and limits pressure due to lacing.
Wide border
Technique : Discharge strip on the upper edge of the sock.
Action : Maintains the sock effectively without tourniquet effect.
Benefits : Improves stem hold.