The Socquette TRAIL ULTRA+ made in France is technical, comfortable, resistant, and ultra-reinforced for Trail running at all distances.
It features a 3D ULTRA REINFORCED ANATOMIC INSOLE that improves foot stability inside the shoe while protecting it from impacts during ground contact.
The 360° FOOT AND ANKLE SUPPORT AND STABILIZATION keeps the ankle supported while stabilizing the foot inside the shoe.
The TRAIL ULTRA+ has targeted reinforcements on strategic areas with high heat or contact on rugged trails: the Achilles tendon, the lace point, the heel, and the toe.
The lightweight and honeycomb mesh allows for effective perspiration evacuation throughout the effort.
The WIDE RIBBED EDGE prevents the garrot effect while efficiently maintaining the sock in place.
The TRAIL ULTRA+ features FLAT SEAMS to reduce friction and foot irritations. It is also ASYMMETRIC to perfectly match the foot's anatomy.
Composition
84% Polyamide - 16% Elasthanne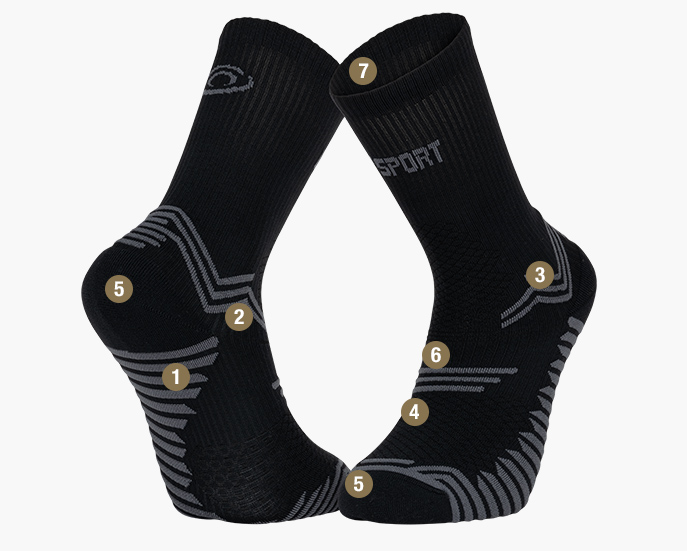 Reinforced 3D anatomical insole
Technique : Combination of 2 types of mesh (thick and fine) with integrated loop mesh.
Action : Protects contact areas, optimizes proprioception and improves foot stabilization.
Benefits : Reduced friction and heat build-up in the sole.
360° support and stabilisation of the foot and ankle
Technique : Ribbed mesh positioned at the ankle joint.
Action : Maintains and stabilizes the ankle without compressing.
Benefits : Optimal ankle support during the stride.
Malleolus and Achilles tendon protection
Technique : Loop mesh located at the level of the malleoli and Achilles tendon.
Action : Protects sensitive structures and absorbs shocks.
Benefits : Provides targeted protection.
Ventilated mesh
Technique : Lightweight, honeycombed mesh on the top of the foot.
Action : Accelerates thermal regulation. Optimal ventilation.
Benefits : Effectively wicks away perspiration.
Heel and toe reinforcement
Technique : Mesh in loop located at the level of the tiptoe and the heel.
Action : Limits heating and friction on the extremities of the foot.
Benefits : Improves comfort and limits the appearance of blisters.
Reinforcement in the lacing area
Technique : Looped mesh.
Action : Limits heat build-up on the upper part of the foot in contact with the lacing area and the tongue of the shoe.
Benefits : Improves comfort and limits pressure due to lacing.
Wide border
Technique : Discharge strip on the upper edge of the sock.
Action : Maintains the sock effectively without tourniquet effect.
Benefits : Improves stem hold.