PRESENTATION OF THE RUNNING RSX EVO ANKLE SOCKS - COLLECTOR EDITION
The running sock is an ultra light sock. The new seamless side provides an excellent support and optimal comfort.
Its high stem provides additional support for the ankle and a significant protection during the practice of running.
The optimization of the sole allows a better support of the plantar aponeurosis. The heel and tiptoe are made of Profilen fiber in order to avoid overheat, friction and blister.
The AIRGON system ensures better ventilation on top of the foot, and a light knit at the point of flexion facilitates the movement of the foot.
Composition
70% Polyamide - 14% Fluorofibre - 13% Polyester - 3% Elastane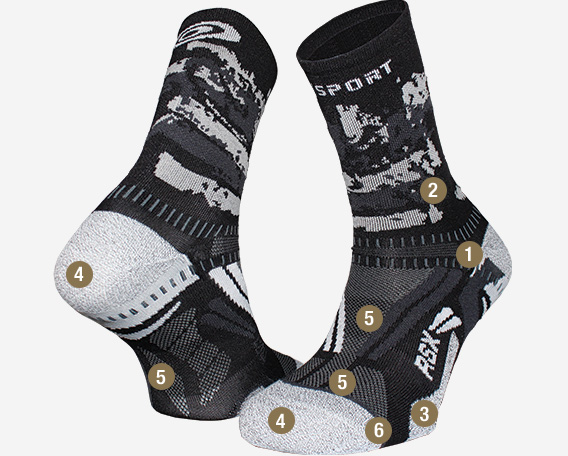 Y-Sport System
Combination of stabilizer knitting and light knitting at the bending point of the ankle joint. This technique allows an optimal adjustment of the positioning of the sock and facilitates the movement of the foot at the ankle joint.
Mid cut & wide border
Provides extra ankle support and protection during trail sessions. Helps to prevent tightness whilst maintaining blood flow.
Stabil effect
Stabilizing band at the forefoot level. It respects the anatomy of the foot with an effective positioning of the plantar arch and promotes superficial venous return.
Heel & toe reinforcements
The heel and toe are reinforced to limit warm-up and friction during races.
Airgon mesh
Ventilated mesh on the top of the foot. Accelerates thermal regulation. Regulates the temperature of the foot during exercise and allows perspiration to be wicked away.
Flat seam
Limits friction and plantar irritation. Promotes comfort during exercise.
Asymetric
The pair of socks has a right side (R) and a left side (L).