PRESENTATION OF THE RUNNING RSX EVO ANKLE SOCKS
The running sock is an ultra light sock. The new seamless side provides an excellent support and optimal comfort.
The optimization of the sole allows a better support of the plantar aponeurosis. The heel and tiptoe are made of Profilen fiber in order to avoid overheat, friction and blister.
The AIRGON system ensures better ventilation on top of the foot, and a light knit at the point of flexion facilitates the movement of the foot.
Composition
70% Polyamide - 14% Fluorofibre - 13% Polyester - 3% Elastane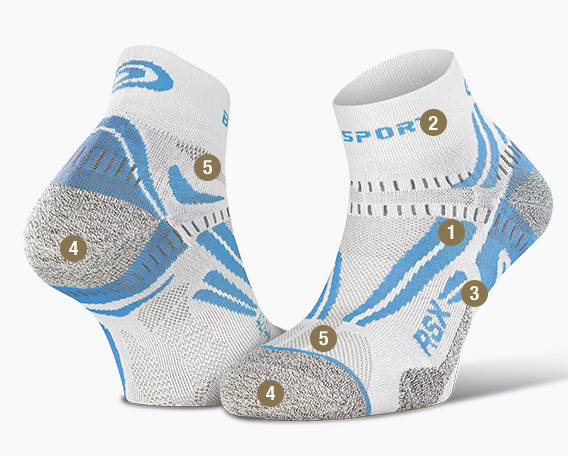 Y-Sport System
Protect nerves and tendons.
Wide border
Helps prevent tightness whilst maintaining blood flow.
Stabil effect
Stabilization strip at the front of the foot.
Heel and toe reinforcements
Avoid overheating and friction.
Airgon mesh
Lightweight mesh for optimal foot ventilation.
Flat seam
For optimal comfort