PRESENTATION OF XLR COMPRESSION SOCK
This new Multisports XLR sock with its snazzy design benefits from all the compression expertise of our research centre as well as 14 years' collaboration with the technical and medical staff of federations and professional teams.
Made in our French production plant, this MULTISPORTS 2-in-1 sock offers the CALF compression (BV SPORT patent) of the BOOSTER combined with an ultra-technical foot featuring the famous Y-SPORT system of our short sock lines.
The XLR applies just the right amount of controlled compression to the calves, improving venous return, delivering more oxygen to the muscles, tendons and ligaments and enabling you to improve your performances and physiological capabilities.
The reinforced knitting from the calf down to the Achilles tendon provides better muscle support and reduces parasitic oscillatory movement and vibration, which can cause fatigue and muscle damage.
A special lightweight mesh is knitted into the tibial crest area to protect the sensitive pretibial areas and an extra reinforcement has been added at the Achilles tendon.
This easy-to-don, extremely comfortable and impressively effective sock will soon become your faithful ally in all your sporting activities.
TECHNICAL FEATURES : 
[row]
[span size="6"]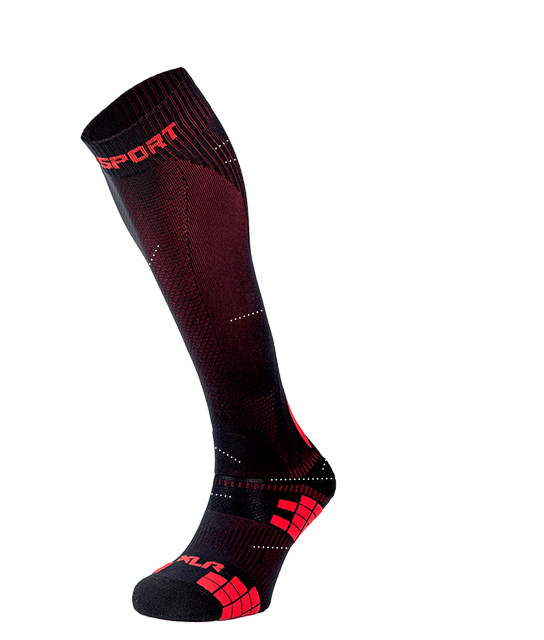 [/span][span size="6"]
Selective Compression 

Adapted pressure to the calf. Fast and effective elimination of toxins

Calf support

Reinforced knit at the calf. Improves muscular support at the calf and reduces parasitic oscillatory movements and vibrations, sources of muscular lesions and fatigue.

Aero tibial windows

A specific lighter mesh on the shins. Protects the sensitive pre-tibial structures: Periosteum, superficial nerves and microcirculation.

System Y-SPORT


Protection of nerves, tendons and sliding pulleys.

Protect +

Reinforced section positioned just where the shoe closes.

Airgon

Light mesh for better ventilation of the top of the foot.

Stabil effect

Stabilization strip at the front of the foot.

Extra flat seam

Maximal Comfort 

Protect + (Friction Free) : Heel and foot

Optimal comfort with anti blister and friction design

Scientific concept

Our compression support ranges are manufactured using circular knitting machines. This technique enables us to control the pressure and cut more accurately.
[/span]
[/row]
COMPRESSION SELECTIVE XPERIENCE
The BV SPORT research and development centre, with its many scientific studies, proved that the pressure put on the lower limbs varies depending on the type and thickness of the living biological tissues of which they are composed. These tissues act as a pressure shock absorber (muscles and fat) or are otherwise incompressible (bones and, to a lesser extent, tendons and nerves).
These innovative factors have enabled us to design meshes of variable levels of rigidity (flexible/semi-rigid/rigid), which have been incorporated into the production of our compression ranges (Booster and ProRecup) since 2004.
Selective compression respects athletes' anatomy and physiology, optimises muscular biomechanics during movement, improves venous return, limits extraneous vibrations and oscillations, decreases the risk of stiffness and DOMS and raises the fatigue threshold.
HOW TO USE IT : 
Never USE your XLR compression range during the recovery phasis. During your trips in car, bus, train, flight and when sleeping.
Prefer ProRecup Elite range during the recovery phasis or the Confort range for a daily use and when you're travelling.
The BV SPORT logo should be in front, under the knee cap. 
Washing machine at 30° maximum or by hand. Dry naturally. No tumble dryer.
CONTRAINDICATIONS :
- In cas of venous pathology, contact your doctor.
- Do not wear during sleep.
- Do not wear the XLR compression range when not participating in a sporting activity.
SIZING CHARTS :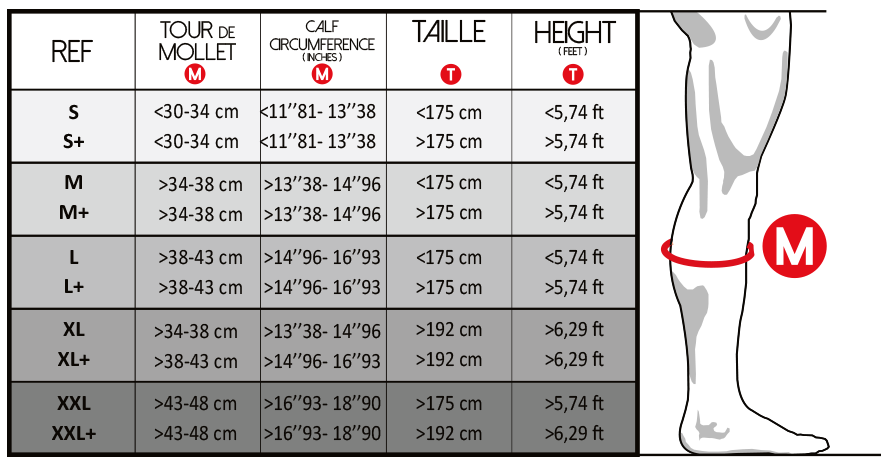 MANUFACTURING ORIGIN : FRANCE
COMPOSITION : 80% POLYAMIDE / 11% ELASTANE / 9% POLYESTER