The beige DOUBLE EVO mid-sock is composed of two layers of ultra light and resistant socks.
The first sock sticks to the foot and the second sock sticks to the shoe to reduce friction during sports activities.
The zones of lightened mesh, AIRGON, and the SENSIL AQUARIUS fibre allow perspiration to be wicked away throughout sporting activities.
The toe and heel have been reinforced with Friction Free for optimal comfort and to limit the appearance of blisters.
The sock is composed of reinforcement zones at the front of the foot and under the heel to protect the foot effectively during efforts.
The Y-SPORT system combined with STABIL EFFECT provides excellent support for the sock in the shoe.
The WIDE BORDER, seamless, avoids the withers effect.
Composition
Outer Fabric : 59% Polyester - 37% Polyamide - 4% ElastaneInner Fabric : 81% Polyamide - 16% Polyester - 3% Elastane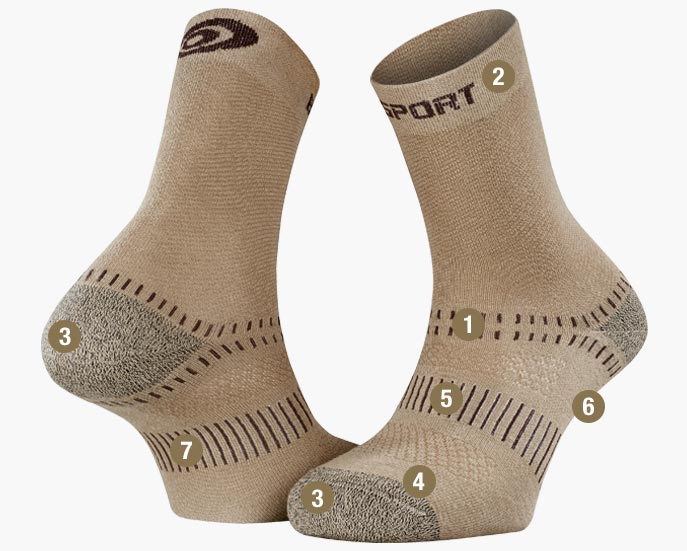 Y-Sport System
Combination of stabilizer knitting and light knitting at the bending point of the ankle joint. This technique allows an optimal adjustment of the positioning of the sock and facilitates the movement of the foot at the ankle joint.
Wide border
Effectively maintains the sock without garrote effect during exercise.
Heel & toe reinforcements
Avoids overheating and friction.
Flat seam
Limits friction and plantar irritation. Promotes comfort during exercise.
Airgon mesh
Ventilated mesh on the top of the foot. Accelerates thermal regulation. Regulates the temperature of the foot during exercise and allows perspiration to be wicked away.
Stabil effect
Stabilizing band at the forefoot level. It respects the anatomy of the foot with an effective positioning of the plantar arch and promotes superficial venous return.
Micro fibre Sensil Aquarius
Helps wick away perspiration during training and competitions