THE CSX PRO SHORTS PRESENTATION

Designed with variable stiffness mesh (selective compression - BV SPORT patent), the new black CSX PRO quad short is the essential tool to climb the mountains of your next Trail sessions.
With a silicone grip located at the quadriceps, it allows the perfect grip of your hands during the ascent phases of your trails. The addition of 6 elastic loop will allow you to take your gels with you.
Comfortable and breathable, the CSX PRO has a wide waistband for optimal support, strategically positioned ventilated areas for maximum ventilation and ultra-flat seams eliminating all risk of friction and irritation.
The Energy fibre that makes up the CSX shorts improves heat exchange and maintains an ideal body temperature regardless of the outside temperature. It is also antibacterial, anti-UV, resistant, light and very comfortable.

TECHNICAL FEATURES :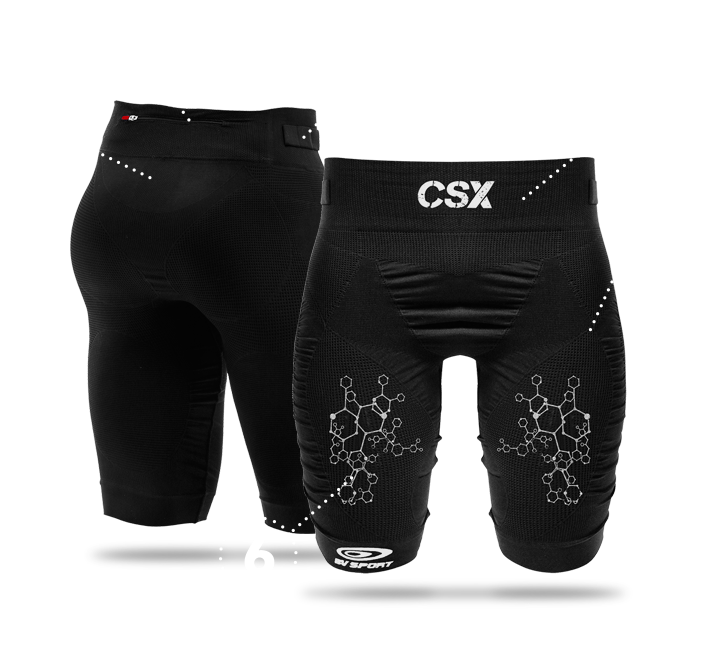 Wide elasticated waistband

Ensures secure fit.

Ultra flat seams

Avoid friction & irritation.

Ventilated areas

Maximal ventilation.

Zipped back pocket :


For little personnal belongings.

6 elastic loops for holding gels
Silicone grips at quadriceps area :

You can put weight on it during the slopes.
COMPRESSION SELECTIVE XPERIENCE

MESHES OF DIFFERENT LEVELS OF RIGIDITY/SELECTIVE COMPRESSION

The BV SPORT's R&D Center has demonstrated by its many scientific works that the pressures transmitted to the lower members vary in function of the type and the thickness of biological tissues that composes it. These tissues behave as shock absorbers of pressure (muscles and fat) and, on the contrary, are non-compression (bones, tendons and nerves).

IMPROVEMENT OF MUSCULAR BIOMECHANICS AND PERFORMANCE

These innovative parameters have permitted us to conceive meshes of different levels of rigidity (soft, demi-rigid, rigid) that have been integrated since 20014 in the manufacturing of our compression range: Booster and ProRecup. The selective compression respects the anatomy and physiology of athletes, optimizes the muscular biomechanics, improves the venous return, limits the vibrations and parasites oscillations, decreases the risk of pain and prevents fatigue.

THE QUAD SHORT CSX (Compression Selective Experience)

The QUAD Short CSX disposes from a large elastic belt for an optimal support and comfort. The CSX is provided with super slim seams that avoid friction and irritation, it is equipped with several airy areas that allow an efficient ventilation and a maximum sweat evacuation. A tiny reflective pocket is located on the side of the belt.
INNOVATIVE ENERGY FIBER

The Energy Fiber improves the thermic exchange and and allows an ideal body temperature no matter the external temperature. It is also antibacterial, anti UV, resistant, light and very comfortable.

SIZING CHARTS :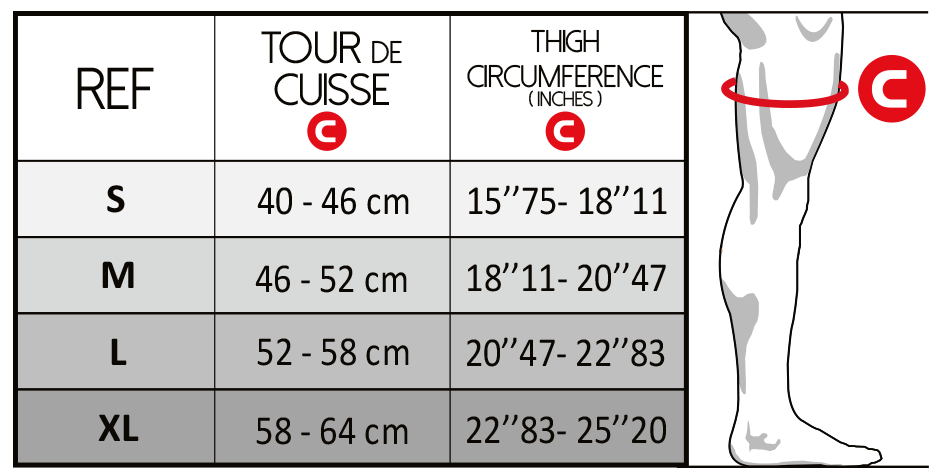 MANUFACTURING ORIGIN : ITALY
COMPOSITION : 91% POLYAMIDE / 9% ELASTANE