The black/green TREK COMPRESSION EVO sock is the only hiking sock in the world with selective compression.
The CALF SUPPORT improves venous return and accelerates the elimination of toxins (CO2, free radicals) while providing effective muscle support to reduce vibrations.
The AERO TIBIAL WINDOWS with its flexible mesh on the tibia protects the sensitive structures of the tibia (periosteum).
The SOLEUS PROTECT SYSTEM supports the Achilles tendon to limit any risk of inflammation.
The AIRGON  lightweight mesh allows perspiration to be evacuated throughout the day.
With PROTECT+, the toe and heel have been reinforced with Friction Free for optimal comfort and to limit the appearance of blisters.
The sock has reinforcement zones in the forefoot and under the heel to protect the foot effectively during effort.
The Y-SPORT SYSTEM combined with the STABIL EFFECT provides excellent support for the sock in the shoe.
Composition
47% Polyester - 40% Polyamide - 13% Elastane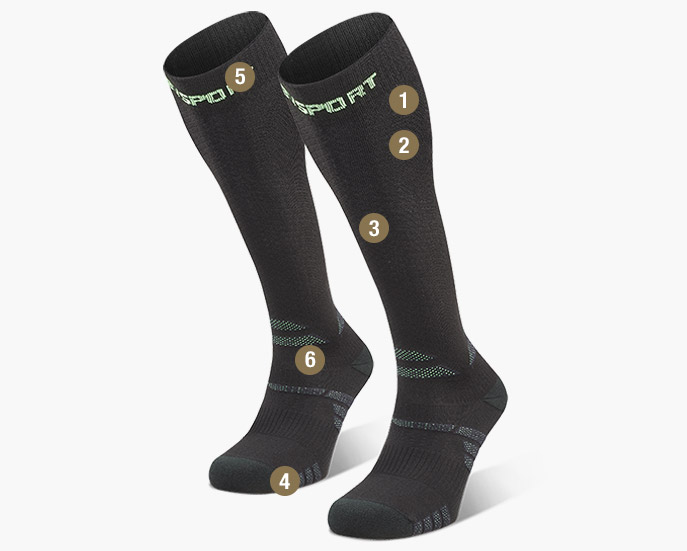 Selective compression
Selective compression respects the anatomy and physiology of the athlete's body, improving venous return, optimising muscle performance with every impact and significantly dampening unwanted vibration and oscillation. Regular use of the TREK compression EVO delays the onset of heavy legs, increases the threshold for fatigue, reduces the risk of aches, considerably lowers the risk of injury and muscle damage and prepares the body for recovery from the outset. See clinical studies.
Calf support
Targeted pressure and rigid mesh for the calf. Improves venous return and accelerates the elimination of toxins (CO2, free radicals) accumulated in the calf. Dampens muscle vibration and oscillation. Delays heavy legs and increases the threshold for fatigue. Reduces the onset of periostitis and DOMS.
Aero Tibial Windows
Flexible and Aerated mesh positioned over the tibia. Protects the sensitive pre-tibial structures (periostium, superficial nerves and microcirculation). Greater comfort and perception. Reduces the onset of periostitis.
Flat seam
Limits friction and plantar irritation. Promotes comfort during exercise.
Wide border
Effectively maintains the sock without garrote effect during exercise.
Y-Sport System
Combination of stabilizer knitting and light knitting at the bending point of the ankle joint. This technique allows an optimal adjustment of the positioning of the sock and facilitates the movement of the foot at the ankle joint.