HEIR OF THE PAST, PIONEER OF THE FUTURE
The new generation of ultra-technical and eco-responsible sleeves.
Always more technical:
Inspired by the BOOSTER ELITE EVO2, the BOOSTER ELITE EVOLUTION is composed of new mesh structures adopting different levels of rigidity (ultra-soft, soft, semi-rigid, rigid). The Selective Compression provides optimal support for the calf, targets specific areas to accelerate venous return and provides oxygen to the muscles to combat muscle fatigue (hard legs, cramps, tingling, etc.).
Keep on going without injury:
Worn regularly, the BOOSTER ELITE EVOLUTION accelerates the elimination of toxins, pushes back the phenomenon of heavy legs, pushes back the fatigue threshold and reduces muscle soreness. The exercise sleeve considerably reduces the risk of injuryand muscle damage, and prepares you for recovery after exercise.
Versatile and adapted to your morphology:
Designed for training and competition, the BOOSTER ELITE EVOLUTION accompanies demanding athletes in their quest for performance and comfort during exercise. It can be adapted to all sports and all levels of athletes, from beginners to high-level athletes.
Gentle but terribly effective :
The BOOSTER ELITE EVOLUTION has been designed, developed and manufactured in France by BV SPORT teams, using recycled fibres for softness and comfort. The SENSIL ECOCARE microfiber is made from pre-consumer waste to reduce the impact on the environment. Its production process minimises waste, reduces energy consumption and conserves precious natural resources.
Composition
84% Polyamide - 16% Elasthanne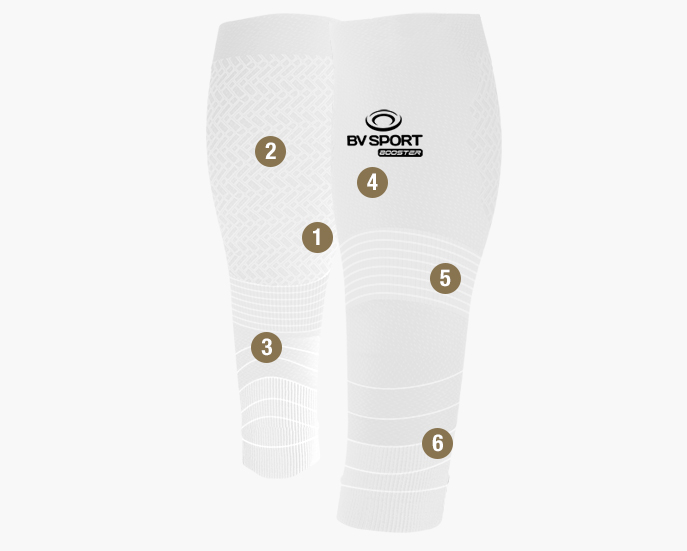 SELECTIVE COMPRESSION
Designed with variable stiffness meshes (ultra-soft, soft, semi-rigid, rigid) strategically placed according to the anatomy and physiology of the sportsmen to meet the requirements of their practices.
CALF SUPPPORT
Rigid mesh and targeted pressure on the calf. Accelerates the elimination of toxins (lactic acids, free radicals, CO2...), postpones the phenomenon of heavy legs and reduces the fatigue threshold. Reduces the appearance of periostitis and DOMS.
SOLEUS PROTECT
Semi-rigid mesh placed on the Achilles tendon. Improves tendon support and limits the risk of inflamation.
AERO TIBIAL WINDOW
Soft, ventilated mesh positioned at the level of the tibia. Protects sensitive pretibial structures (periosteum, superficial nerves and microcirculation), improves comfort and reduces the occurrence of periostitis.
TAP CONTROL
Mesh support under the calf. Limits the risk of tendonitis and injuries, improves muscle load when standing on the ground, especially on uneven paths or slopes.
SHOCKWAVE EFFECT
Alternating ultra-flexible and rigid meshes throughout the BOOSTER. Reduces vibrations and parasitic oscillations, which cause injuries and muscle damage.