Composition
76% Polyamide - 21% Polypropylene - 3% Elastane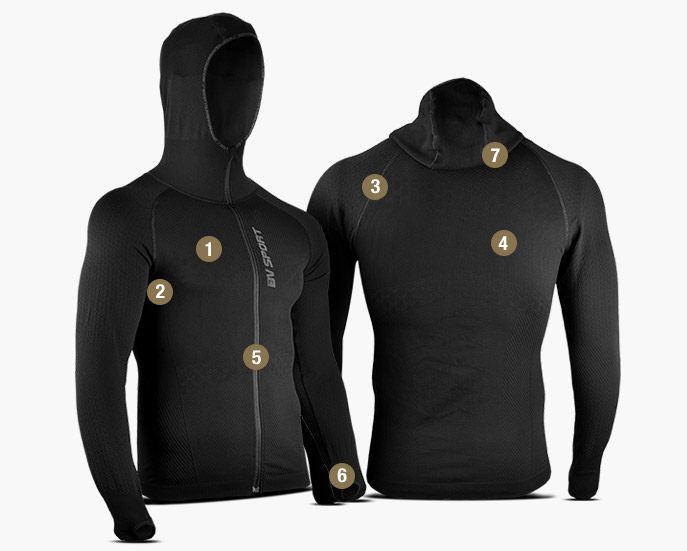 Muscule support
Technique : Combination of technical meshes distributed over the main muscle groups of the upper body.
Action : Improves muscle maintenance during exercise.
Benefits : Improves muscle tone, reduces vibration and allows optimal freedom of movement.
Aeration zones
Technique : Topstitch knitting on the spine, abdomen and sides.
Action : Effectively wicks away perspiration.
Benefits : Allows a better regulation of the body temperature.
Flat seams
Technique : Non-marking knitted seams.
Action : Reduces friction with the skin.
Benefits : Limits irritations with the skin during an effort.
Dryarn microfiber
Technique : Polypropylene microfiber with thermal properties.
Action : Naturally hydrophobic, it does not absorb moisture and dries very quickly. It is resistant, light, comfortable.
Benefits : Improves thermal exchange during exercise and rapidly evacuates perspiration.
Full zip
Technique : Zipper closure on the front.
Action : Quick opening and closing.
Benefits : Easy to put on or take off during practice.
Thumb loops
Technique : Specific assembly at the sleeve.
Action : Allows to cover a part of the hand.
Benefits : Provides a thermal input.
Ajustable hoodie
Technique : Adjusted hood with custom elastic bias and ventilation zones.
Action : Adapts to all morphologies.
Benefits : Protects from various weather conditions while keeping a good evacuation of perspiration.
I choose my size