SEAMLESS
TECHNICAL TOP WITH INTEGRATED CARRYING BELT
The technical top R-TECH PRO black trail-running is made entirely of Seamless and has an integrated carrying belt with no added material.
The running belt integrated to the R-TECH PRO t-shirt contains 1 zipped pocket and 2 elastic pockets on the front, and 1 large elastic pocket on the back as well as 2 softflasks pockets of 150 ml.
This Dryarn polypropylene microfiber is naturraly hydrophobic. It dries quickly. This microfiber improves the thermic exchange which allows a better body temperature regulation. The micro fiber is also resistant, light, comfortable.
Trail t-shirt is composed with different meshs and several levels of support which are placed on main muscles group. The half front zip allows you to regulate body temperature by opening or closing the zip.
Equipped with numerous aeration zones located at the level of the spine, they allow a rapid evacuation of perspiration. The ultra-light mesh sleeves allow maximum freedom of movement during exercise.
The RTECH range enhances the muscles tonicity of those which are the most solicited during effort. It also allows to reduce vibrations, optimises performance with an optimal freedom movement.
Composition
51% Polyamide - 25% Polyester - 21% Polypropylene - 3% Elastane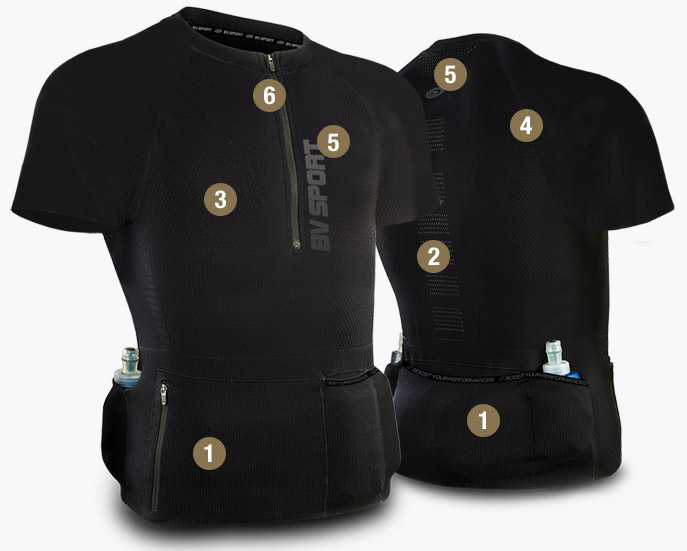 Integrated running belt
Insertion of 3 front pockets (2 elastic and one zipped), 1 large elastic pocket and 2 pockets to put your softflasks (maximum 2x150ml) on the back. These numerous storage compartments allow you to carry accessories with its high technical level without using additional equipment (backpack, carrying belt, smartphone armband).
Aeration zones
3D knitting at the level of the spine to efficiently evacuate perspiration and regulate body temperature.
Muscular support
Several levels of mesh are distributed over the main muscle groups of the upper body. This strategic positioning improves muscle tone, reduces vibrations and allows optimal freedom of movement during exercise.
Flat seams
They make it possible to considerably reduce friction and irritation between the skin and the high technique during an effort.
Reflective logos
Two reflective logos on the chest and back improve your visibility in low light.
Front half-zip
Facilitates aeration during your races, trainings, competitions.
I choose my size