The black zip classic compression RTECH technical top is manufactured from a new innovative fiber : Dryarn
The half front zip allows you to regulate body temperature by opening or closing the zip.
Equipped with numerous aeration zones located at the level of the spine, they allow a rapid evacuation of perspiration. The ultra-light mesh sleeves allow maximum freedom of movement during exercise.
This Dryarn polypropylene microfiber is naturraly hydrophobic. It dries quickly. This microfiber improves the thermic exchange which allows a better body temperature regulation. The micro fiber is also resistant, light, comfortable.
During the effort, muscles of the upper body, pelvis and the thigh are submited to venous and biomechanical constraints. The original structure of the RTECH textile compression range is specifically suitable to the sport practice.  It is composed with different meshs and several levels of support which are placed on main muscles group.
The RTECH range enhances the muscles tonicity of those which are the most solicited during effort. It also allows to reduce vibrations, optimises performance with an optimal freedom movement.
Composition
51% Polyamide - 25% Polyester - 21% Polypropylene - 3% Elastane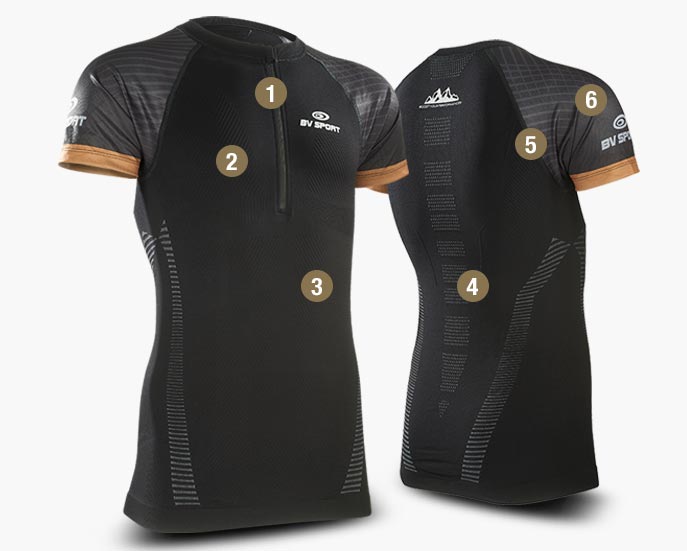 Front half zip
The half-zip allows for extra ventilation or to stay warm during training or competitions.
Muscle support
Several mesh levels are distributed over the main muscle groups. This technique improves muscle tone, reduces vibrations and allows for optimal freedom of movement.
Micro fiber Dryarn
The polypropylene microfibre Dryarn, is naturally hydrophobic. It does not absorb moisture and dries very quickly. This microfiber has the particularity of improving heat exchange which allows a better regulation of the body temperature.
Aeration zones
Specific knitting with topstitching on the spine to effectively wick away perspiration.
Flat seams
The seams are knitted without markings. Reduces friction and skin irritation.
Mesh sleeves
Light and airy, the mesh sleeves provide optimal ventilation and maximum freedom of movement.
I choose my size