Composition
100% Polyester
Washing process
Hand wash / Machine wash and dryer prohibited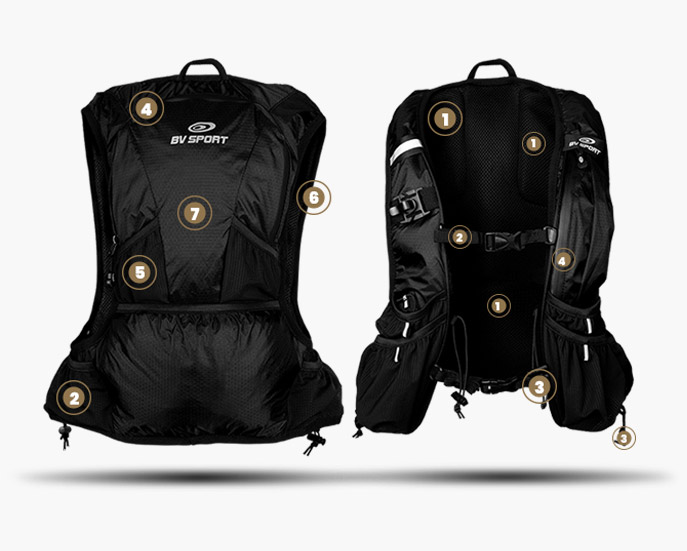 Back pads
Made of 3D mesh, the pads located at the level of the back allow a better air circulation between the bag and the back, while ensuring an excellent comfort and an optimized posture.
Stretchy adjusting belt & adjustable straps
Designed in the form of a vest, the side elastic waistband provides effective support and prevents tossing and turning during runs. The chest and abdominal adjustment straps with a push button can be adjusted to the height of the bag and then adjusted to the body shape by tightening/loosening the strap.
Stick holder
Thanks to our strategically placed attachments, you'll have the choice of carrying your running poles on the front of the backpack thanks to adjustable elastics and stoppers, but also on the back of the bag in the two mesh pockets.
Heat sealed closure
Heat-sealed closures protect your equipment from water, moisture and wind.
Multi pocket
"The bag" has a multitude of external pockets (10) :
-8 elastic pockets positioned at 360° including 2 pockets for flexible flasks of up to 500 ml.
- 1 zipped pocket for smartphones.
- 1 large back pocket and inside (4) : 2 elastic pockets, 1 zipped pocket, 1 pocket for the survival blanket allowing you to bring with you all the necessary equipment.
The backpack also has a compartment for a 1 liter water bag (not included), and 3 outlets and a clip for the water bag hose.
Optimal ventilation
The specific design of the backpack combined with strategically placed back pads ensure optimal ventilation to prevent wet backs.
Water-repellent material
The bag is made entirely of water-repellent and resistant material. This water-repellent material allows you to keep your belongings dry in the event of light rain.