The RUN MARATHON+ Sock, made in France, is ultra-technical, comfortable, lightweight, and reinforced for running on all distances.
It features a TECHNICAL 3D ANATOMICAL SOLE, inspired by automobile tires, which improves foot stability within the shoe throughout the effort.
The 360° SUPPORT AND STABILIZATION OF THE ANKLE allows ankle support while stabilizing the foot within the shoe.
The RUN MARATHON+ has TARGETED REINFORCEMENTS on strategic zones with a lot of heat or contact: the Achilles tendon, the lacing area, the heel, and the toe area.
The lightened and structured mesh allows sweat evacuation throughout the effort.
The wide ribbed cuff prevents a tourniquet effect while effectively holding the sock in place.
The RUN MARATHON+ has FLAT SEAMS to reduce friction and foot irritations.
It is also ASYMMETRIC to perfectly fit the foot's anatomy.
Composition
84% Polyamide - 16% Elasthanne
Washing process
Cold wash in the washing machine (30° max) / Drying prohibited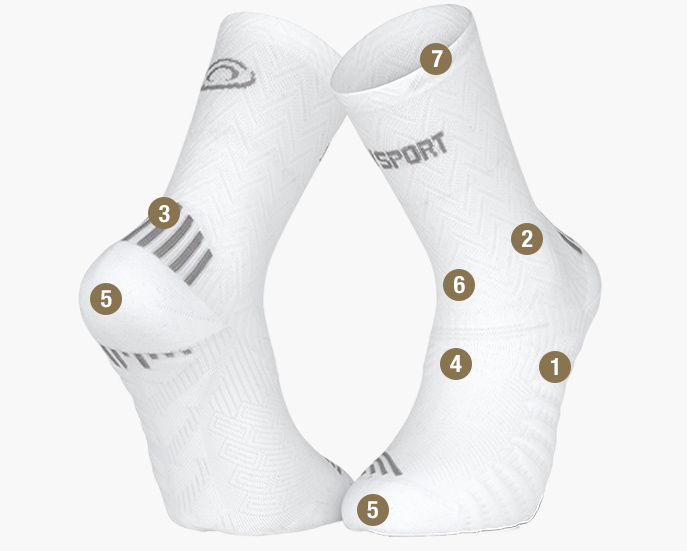 Reinforced 3D Anatomical Sole
Technique: Combination of 2 types of meshes with integrated loop.
Action: Protects contact zones, optimizes proprioception, and improves foot stabilization.
Benefits: Reduces friction and overheating.
360° Foot and Ankle Support and Stabilization
Technique: Ribbed mesh positioned at the ankle joint.
Action: Maintains and stabilizes the ankle without compression.
Benefits: Optimal ankle support during the stride.
Achilles Tendon Protection
Technique: Loop mesh located at the ankles and Achilles tendon.
Action: Protects sensitive structures and absorbs shocks.
Benefits: Provides targeted protection.
Aerated Mesh
Technique: Lightened and structured mesh on the top of the foot.
Action: Accelerates thermal regulation. Optimal ventilation.
Benefits: Effectively wicks away sweat.
Heel and Toe Reinforcements
Technique: Loop mesh (Friction Free) located at the toe and heel.
Action: Limits overheating and friction on the foot's extremities.
Benefits: Improves comfort and limits the occurrence of blisters.
Reinforcements on the Lacing Area
Technique: Loop mesh.
Action: Reduces overheating on the upper part of the foot in contact with the lacing area and tongue.
Benefits: Improves the fit of the upper.
Wide border
Technique: Relief band on the upper edge.
Action: Efficiently holds the sock without a tourniquet effect.
Benefits: Improves the fit of the upper.