Run free, without running bag , feel light and free to move as if you had nothing on you, while being able to store your trail running equipment and have easy access to it at all times without having to stop, these are the advantages offered by the new UltraBelt.
Run Free in the mountains!
Thanks to its large, seamless 360° elastic pocket, you can easily store small items as well as your nutrition/hydration. The Ultrabelt is designed and optimised to have at hand: 2 flexible 250ml flasks, a smartphone, keys, a windproof jacket, your credit cart or ID, gel and an energy bar.
The Ultrabelt trail-running belt is equipped with pole holders at the rear, making it easy to catch or store your poles while running. It also has 2 elastic cords with a stopper at the front to fix easily your race bib.
The two reflective logos at the front and back of the belt improve your visibility during training or night runs.
It maintains but does not compress!
The elastic material and ergonomic design of the belt allows a natural positioning at the waist, without compression. The Ultrabelt is easy to put on and hold your trail-running equipment close to your body to avoid any disturbing movement during your run.
The Ultrabelt is light, breathable and available in 4 sizes to fit your body perfectly, whether you are a man or a woman.
Composition
90% Polyamide - 10% Elastane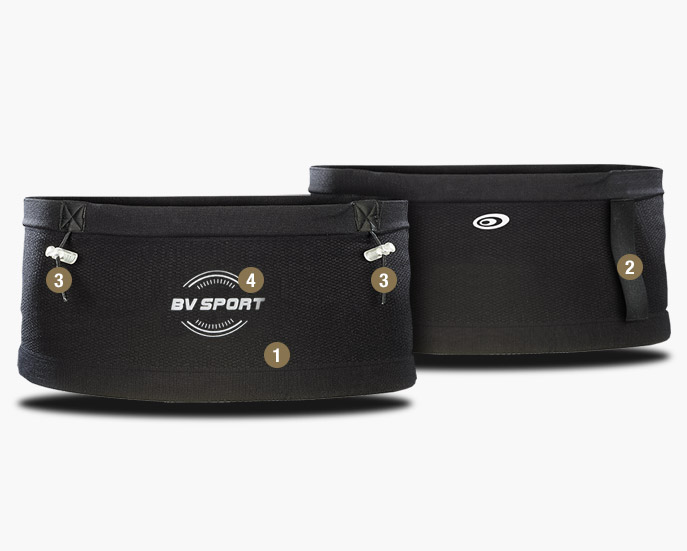 360 seamless pocket
Unique circular pocket with 4 easy access points for optimal support of your packing. Seamless circular knitting without pressure zones, adapted to any type of morphology thanks to it's elasticity.
Pole holder
Two siliconned elastics for a perfect sticks holding. Quick access and storage of sticks while running.
Bib holder
Two elastic cords with stoppers to put on your race bib.
Logo reflect
Two reflective logos on the front and back of the trail-running belt for better visibility during night runs.
I choose my size